Tramonto Main Stair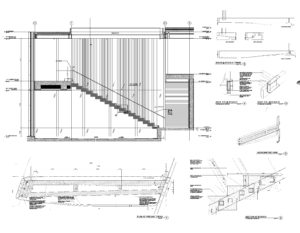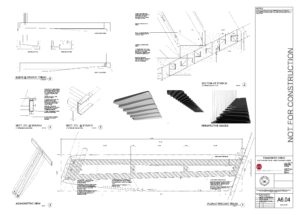 ABSTRACT + CHALLENGE
To create a focal point within the home that allowed for open air circulation between the first and second floor of the residence. An initial thought was to have a floating element where the upward movement would feel as though you are walking on floating stones.
APPROACH + PLACEMENT
The initial concepts for the stair design began through the creation of many different drawn and 3-d renderings. From here they were prototyped with 3-d printing techniques and ultimately were defined through a series of full-scale mock-ups.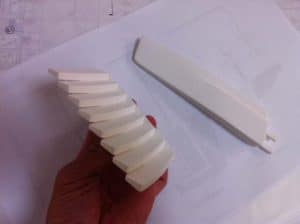 PROCESS + ASSEMBLY
The stair is assembled through a unique orientation, with each individual form slotting into steel rods originating from a single side of the space, allowing for the floating sensation. Each landing is then secured through the series of vertical rods which extend the entirety of the ceiling space, ultimately creating a screen and a sense of connection the space as a whole.
RESULTS + FINDINGS
The final design for the main feature stair of the Tramonto Residence turns the simple method of moving from the first floor to the second into a visual and physical experience that immerses you in the vertical aspects of the home. With the vertical-slat screens on the exterior and the locking-screen rods that flank the outside of the floating steps, a visual phenomenon is felt as the light permeates from both sides along with the cadence of your steps.